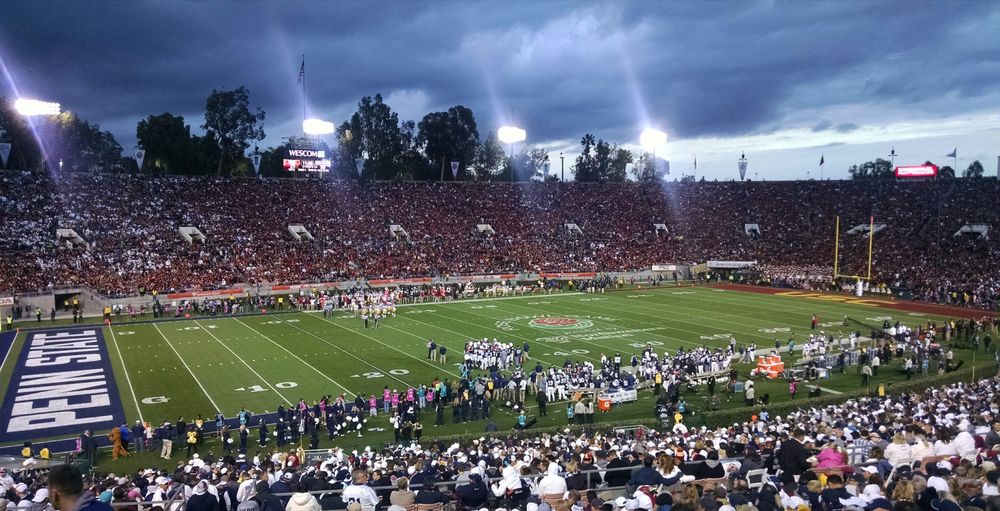 I was fortunate enough to attend the 2017 Rose Bowl, which saw our Nittany Lions take on the University of Southern California Trojans in the 103rd edition of the game affectionately known as "The Grandaddy of Them All." It was an amazing trip filled with memories, so with some inspiration from the new Masters of Professional Studies in Data Analytics degree now being offered at Penn State Great Valley, I thought I'd share the "data" I collected on my trip. Enjoy!
25
While boarding my flight leaving Philly, I made an admittedly unscientific assessment and determined that over 25% of the passengers were wearing Penn State gear and heading to the game. That number increased when we connected in Denver and picked up even more fans. Penn State proudly has the largest alumni association in the country, with over 175,000 dues paying members. I spent the day before the game in Marina Del Ray and Venice Beach, and everywhere I went I saw fans in PSU attire, including The Venice Whaler, a bar on the beach our fans seemed to take over by flying PSU flags in the windows. It was very impressive to see this incredible network of alums and fans mobilized, and reinforced the notion that anywhere you go in this world, you're going to find a fellow Penn State grad.
2
The alarm on my phone went off at 2:00 a.m. on the day of the game. Why so early? I needed time to hit the snooze button once, get ready, drive across LA to Pasadena, and park the car near the stadium at 4:30 a.m. for some early morning tailgating.  Yes, you can arrive later — but not much later if you want to avoid traffic or see the Rose Parade. Much like Beaver Stadium, the parking area is a sprawling sea of cars stretching out seemingly for miles. Unlike Beaver Stadium, tailgating happens predominately on the golf course that's adjacent to the stadium. No parking allowed on the greens, tee boxes, or sand traps, but the fairways become home to canopies, coolers, and cars for the day. Apologies in advance for the pun, but maybe this number should have been, "Fore?"
44 / 19 / 400 / 22
That represents the 44 floats, 19 equestrian units with approximately 400 horses, and 22 marching bands that performed in the Rose Parade, which winds through Pasadena the morning of the game. We walked from our car over a mile and a half down through a rather tiny neighborhood to the start of the parade, where we had grandstand seats to see everything go by. I've watched this parade countless times on television, but television doesn't do justice to the remarkable display the parade provides.  Each float must be covered in natural materials such as flowers, seeds, or bark and each one is a breathtaking work of art and animation. Courtesy of our grandstand seats, we were able to walk on the street and see some of the first floats up close and personal, and the level of intricate detail was astonishing. Once the parade swung into action, we saw floats with dragons spewing fire and birds flapping their wings, and one float even managed to have a working wave pool, complete with real, live dogs surfing back and forth. While that one didn't have as much of the fanciful display as some of the others, being able to see a dachshund and bulldog surfing in the middle of the Rose Parade easily made that float my favorite.
55 and 43
No, that wasn't the final score, those numbers were the temperature at kickoff (55) and number of years since it's been that cold for a Rose Bowl (43). I'm not going to lie, when I planned this trip to sunny, Southern California I was expecting some warm weather, brilliant sun, and a break from the often dreary weather we see at home this time of year. No luck there, as fans were bundled in layers, scarves, and winter hats. It was even colder for the start of the Rose Parade, with temperatures around 47 degrees. Just my luck, right? None of this distracted from the fun or enjoyment of the trip, and in some ways gave us a unique topic of conversation with both USC and PSU fans.  However, I most certainly did not come back with a tan. 
95,128
Which represents how many fans attended the game this year. While the proximity to USC made this a virtual home game for the Trojans, I'd estimate that over 40% of the fans were clad in blue and white.  The stadium itself is a throwback to an older time, with the original construction completed in 1923. In fact, the first Rose Bowl game ever played in this stadium featured none other than Penn State, back before the game was played between the Big Ten and Pac 12 conference champions (we lost that one... to USC). The venue itself is gorgeous, nestled in a valley between the picturesque San Gabriel Mountains. Walking in through the gate and seeing the iconic Rose Bowl sign definitely makes you feel a sense of history and appreciation, as though every prominent college football game should be played here. 
100
As in, I'm 100% guaranteed to attend this game again the next time Penn State is invited to play. You likely already know that USC won the game on a last second field goal, erasing a 14 point lead the Lions had built up at the end of the third quarter. I was heartbroken in the moment, equal parts stunned, sad, and angry. The fantastic story book season Penn State was authoring came to the finish only to find the last page ripped out on them. Definitely not the ending we were expecting and hoping for, but since then I've come to completely appreciate the feats Coach Franklin, his staff, and the players have accomplished this season. Penn State started out the year as an after-thought; certainly not good enough to compete with heavyweights like Michigan or Ohio State. After a slow start, they ripped off 9 impressive wins in a row, captured their division, and stormed all the way to a Big Ten Championship. They fell three points short in Pasadena, but definitely showed the best of the Penn State competitive spirit, and confirmed that Penn State football is well positioned for future success. As I write this, there are only 235 days until the 2017 season kicks off in Beaver Stadium. That's data I'll happily continue to monitor and analyze until next season gets here!
Gary Generose serves as the Chair of the Penn State Great Valley campus Advisory Board. He earned a Bachelor of Science in Finance from the University Park campus, and both a Master of Business Administration and Master of Leadership Development degrees from Great Valley. He has also served as the past president of the campus Alumni Society, is actively involved as a graduate advisor to Phi Gamma Delta, his undergraduate fraternity, and is a lifetime member of the Alumni Association.
Gary has over 18 years of experience as a leader at Vanguard, currently serving as a Transformation Manager in the Planning and Development division.