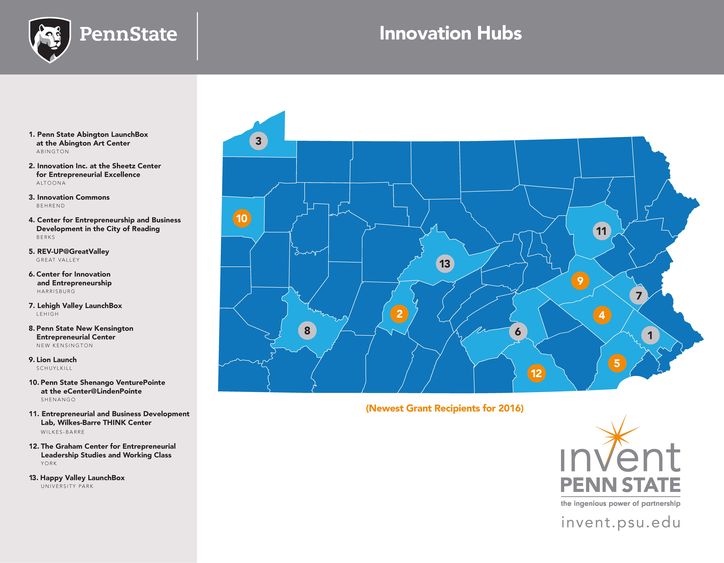 With Penn State's recent announcement of the next six communities to receive seed-grant funding through its Invent Penn State initiative, the University's economic development effort has grown to include 13 hubs for innovation spread across Pennsylvania.
Penn State Altoona, Berks, Great Valley, Schuylkill, Shenango and York were announced as the second wave of grant recipients during a special event at the Capitol in Harrisburg today (June 20).
Envisioned as a way to leverage the University's size and broad research strengths to help drive job creation, economic development and student career success, Invent Penn State debuted with an introduction by President Eric J. Barron in January 2015.
"Our aim is to accelerate the transfer of new ideas into useful products and processes that encompass a broad range including: energy, food security, environmental protection, health care, manufacturing, educational technologies, medical devices and pharmaceuticals," Barron wrote in his initial announcement.
As part of Barron's announcement, the University committed $30 million to invest in economic development and student career success.
The genesis of Invent Penn State came from a tour of the Commonwealth that Barron undertook before becoming the University's 18th president.
"Playing a larger role in economic development was something he heard consistently from the Commonwealth Campuses," said James Delattre, assistant vice president for research and industrial partnerships. "Many of these campuses are deeply interfaced with their local industries, and play a crucial role in local economic development."  
A major component of the effort resides in taking advantage of Penn State's numerous locations throughout the Commonwealth as engines of local and regional growth. Penn State has 24 campuses across Pennsylvania. An inaugural group of six Penn State Commonwealth Campuses – Abington, Behrend, Harrisburg, Lehigh Valley, New Kensington and Wilkes-Barre – each received $50,000 seed funding in 2015 aimed at enhancing local partnerships and entrepreneurial environments. Happy Valley LaunchBox, a no-cost business accelerator program with co-working space in State College, was announced as part of Invent Penn State in fall 2015.
"We plan to create flexible and vibrant physical spaces in key locations across the Commonwealth to host entrepreneurial boot camps that will allow individuals and groups to incubate their ideas and develop viable businesses," Barron said.
Invent Penn State isn't restricted to just the University's students and faculty. Campuses involved in the effort also serve as hubs for their surrounding communities, giving residents a resource to launch their business ideas.
The translation of the research and teaching into the communities is the next phase of Invent Penn State, according to Delattre.
Rather than a one-size-fits-all approach in developing entrepreneurship sites at the campuses, Invent Penn State actively encourages each location to tailor its efforts to the needs and resources of its campus and its local community.
"Each of these is very different. Each campus is different, each center is different," said Rick Brazier, interim associate dean for faculty and research. "They're in different stages and have different ideas and unique opportunities."
Delattre added, "And that reflects the diversity of their entrepreneurial communities--community needs, faculty fields of expertise and what resources they have available."
For example, Penn State Abington partnered with the Abington Arts Center to create a co-working space combined with an innovation hub for Montgomery County. Dubbed the Abington LaunchBox, it serves as an idea lab, tech springboard and meet-up space for entrepreneurs from the campus and region.
Designed to intentionally blur the lines between analog and digital, art and science and traditional and experimental, the Abington LaunchBox features computers, laser and vinyl cutters and 3-D printers alongside sewing machines, saws and hardware tools.
Meanwhile, the vision at Penn State Harrisburg aims to bring to bear the diversity of professional expertise available in the Capital Region. This not only includes the Penn State Harrisburg faculty, but experts at Penn State's Dickinson School of Law in Carlisle and the College of Medicine in Hershey.
"We're an opportunity to cross boundaries," said Kevin Harter, director of Penn State Harrisburg's Center for Innovation and Entrepreneurship. "There's a lot of connectivity between those groups already, between business, law and medicine."
Partnering with local communities and businesses also is a major feature of the new centers. In addition to seed funding provided by the University, campuses are working with communities to secure additional grants and funding to help spur entrepreneurship and innovation.
Penn State Behrend's Innovation Commons, located in the Jack Burke Research and Economic Development Center, also is part of Ignite Erie – a $1.5 million job creation initiative that is a partnership between Behrend, Mercyhurst University and the Erie County Gaming Revenue Authority.
Perry Wood, executive director of the Erie County Gaming Revenue Authority, said at the Innovation Commons' Jan. 8 ribbon-cutting event, "This model mirrors what is successfully igniting economies across the country, where universities are collaborating with a multitude of entities to create an atmosphere conducive to innovation."
The Behrend center will house the first of many "Innovation Beehives" in Erie County, where students and others can consult with business professionals such as bankers, patent attorneys, marketing professionals and other experts at no initial cost.
"There is no predicting where – or from whom – the next disruptive product or service will come," said Ralph Ford, chancellor of Penn State Behrend. "For anyone with even the kernel of an entrepreneurial idea, the services Innovation Commons provides can open the path to ideation and speed time to market."
Though Invent Penn State is less than a year and a half old, some communities are already starting to see an impact.
The formation of the Alle-Kiski Economic Generator by Penn State New Kensington in western Pennsylvania is helping to spark a rejuvenation of a region that was once heavily reliant on the aluminum industry.
Working with the Beauty Shoppe, a Pittsburgh-based firm that specializes in developing work spaces for entrepreneurs, startups and small firms, the campus set out create a hybrid space that caters to a wide audience in the community.
"We wanted a co-working space during the day and an entrepreneurial center at night, that way the space is a thriving operation from 8 a.m. to midnight," said Kevin Snider, chancellor of Penn State New Kensington. "The space has to be mixed in order to work."
Matthew Ciccone, one of the founders of the Beauty Shoppe, said the opportunity to work in a small community drew him to the partnership with New Kensington.
"A lot of our team grew up in small places in western Pennsylvania," Ciccone said. "We're looking to help breathe life into these towns."
The 4,500-square-foot Alle-Kiski Economic Generator, named for the region's Alle-Kiski Valley, will move into a former department store in the business district and add to the growing momentum in the area.
"These people were really excited that Penn State announced it was coming," Snider said.
Since the news of the grant, Snider said three other entities have announced they're coming to New Kensington, including a family services operation and a restaurant.
"We're seeing more energy and excitement, more interest and belief in the area. When I talk to people across the area, they said New Kensington used to be the focal point when Alcoa was here. It was the symbol of what was and what is," Snider said. "I'm hoping it can be the symbol of what will be."