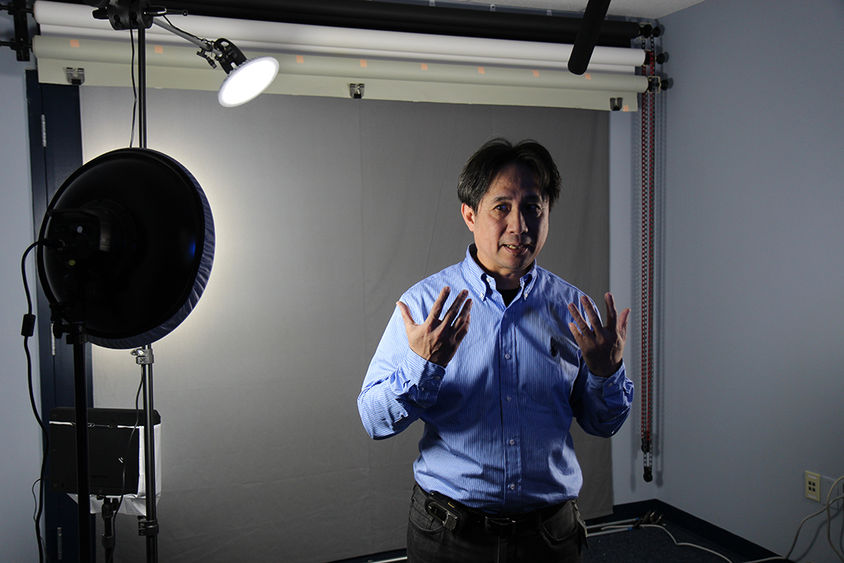 MALVERN, Pa. — Penn State Great Valley celebrated the grand opening of its One Button Studio on Tuesday, May 10. Designed to be used without requiring previous production experience, the One Button Studio is a simple recording space that allows students and faculty to create high-quality videos with the easy press of a button.
The studio will be a valuable resource to the Penn State Great Valley community, allowing faculty members to record lectures for online courses and students to film presentations. The studio greatly simplifies the recording process by separating it into three steps: insert a flash drive into the studio's computer, press a button to start and stop the recording, and remove the drive when finished. The lighting, projector and microphone are already in place, leaving a ready-to-record space for users. Videos can later be edited in the adjoining computer lab.
Chancellor James Nemes and Financial Officer Maria Zuccato cut the ribbon to officially open the studio. Morris Chio, network and AV support specialist, demonstrated using the green screen, projecting PowerPoint presentations, and incorporating a teleprompter while recording in the studio.
The One Button Studio can be found in the library located in the Main Building of Penn State Great Valley's campus. Commonwealth campuses including Penn State Berks, Penn State Brandywine, and Penn State Abington also have One Button Studio locations available on-site.