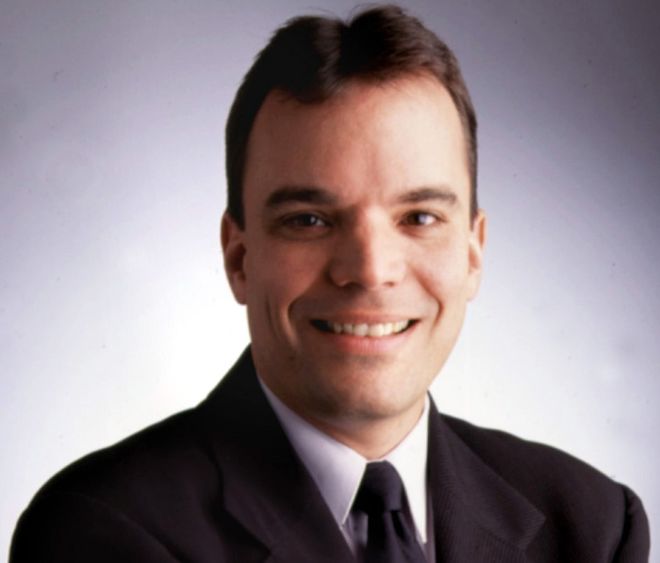 MALVERN, Pa. — Penn State Great Valley alumnus and former adjunct faculty member Carl J. Woodin has made a generous commitment to name the media editing room in the campus' newly-renovated Knowledge Commons.
Located in the ground floor of the Main Building, the media editing room allows students and faculty to create and modify digital content. A plaque outside the space will read "Room dedicated by AZtechMultimedia.com in honor of Ilene Rovner, Alex & Zach Woodin and Dr. Dave Gallup," honoring Woodin's company, wife, sons, and an influential faculty member/mentor-turned friend.
"We are pleased to recognize this gift from Carl Woodin in support of our campus, particularly our Knowledge Commons," said James Nemes, chancellor and chief academic officer of Penn State Great Valley. "We are fortunate to have generous alumni such as Carl to help us as we move forward."
In 1991, Woodin received his master of education in training design and development from Penn State Great Valley while working across the street as a training supervisor at Shared Medical Systems. One of the first students to graduate from the campus' new location in Malvern, Woodin enjoyed his time at Great Valley — except for one course.
"I couldn't stand the 'computers for educators' course," he said. "Dr. Gallup, my adviser, encouraged me to redesign it as my thesis. After graduation, he offered me a job to teach it, and I wound up staying at Great Valley for six years. I am thankful for Dr. Gallup's mentorship; we are still friends to this day."
Woodin has held a variety of multimedia and training positions in the greater Philadelphia area. He worked at Merck as a medical software trainer and systems analyst and was later recruited to IMS Health, a division of Dun and Bradstreet, by a former boss. He started by managing the training and instructional design group an — after designing and developing the first computer-based tutorial for their software — was promoted to international creative director. Woodin split his time between Pennsylvania and London, where he earned a doctorate in multimedia design and development from the University of London.
Woodin founded AZtech Multimedia & Training Group in 2002. The company supports the multimedia and audio-visual aspects for corporate meetings; designs and develops websites; and works on various video productions. Clients range from musicians, Fortune 500 companies, the BBC, and medical offices, among others. Most notably, he personally worked on Billy Joel's documentaries, "The Last Play at Shea" and "A Matter of Trust: The Bridge to Russia."
He attributes AZtech Multimedia & Training Group's success to his multitasking and networking skills. Having never formally advertised, Woodin relies on referrals and word-of-mouth for new business.
"In order to successfully launch your own company, it's imperative that you rely on your own network," he said. "That's one of the great things about Penn State. From the alumni association to career services, it is incredible what the University provides. Everywhere I go, I make sure to represent Penn State, and the name is truly recognized across the globe."
Woodin is married to his high school sweetheart, Ilene Rovner. They have two sons, Alex, a Penn State graduate, and Zach, who is a student at the University of Alabama. An avid traveler, Woodin has visited over 80 countries and all seven continents, many of those with his family.
"We have always been huge supporters of THON," he said. "But I wanted to do something that would impact students at Great Valley, too. With the media editing room, I can leave a legacy while honoring the people who helped me become the person I am today — my family and Dr. Gallup."
This gift will advance "A Greater Penn State for 21st Century Excellence," a focused campaign that seeks to elevate Penn State's position as a leading public university in a world defined by rapid change and global connections. With the support of alumni and friends, "A Greater Penn State" seeks to fulfill the three key imperatives of a 21st-century public university: keeping the doors to higher education open to hardworking students regardless of financial well-being; creating transformative experiences that go beyond the classroom; and impacting the world by fueling discovery, innovation and entrepreneurship. To learn more, visit greaterpennstate.psu.edu.
There are still naming opportunities available for the Knowledge Commons. For more information, contact Erica McLeod, director of campus development, at [email protected].