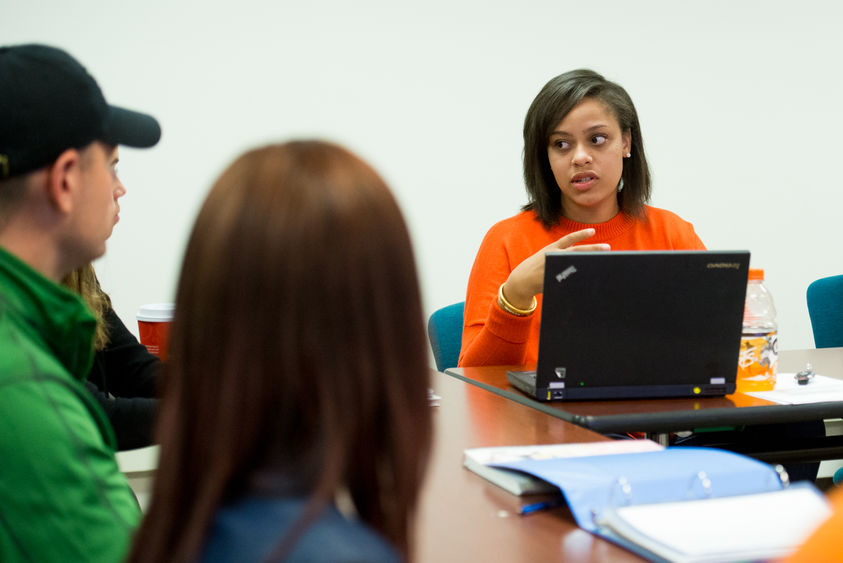 MALVERN, Pa. — Working adults across southeastern Pennsylvania can receive a Master of Business Administration (MBA) from Penn State — customized to their needs and conveniently located to work or home.
Designed for professionals to spend more time learning and less time commuting, the AACSB-accredited MBA program at Penn State Great Valley in Malvern has broadened to include campuses at Penn State Abington, Penn State Berks in Reading, and Penn State at The Navy Yard in Philadelphia.
The 45-credit program equips students with the tools to lead businesses, think strategically, articulate a vision, and motivate colleagues. In addition to core courses in ethics, technology, and interpersonal dynamics, offerings in marketing, health care, human resource management, sustainable business practices, and finance allow students to choose a curriculum aligned with their interests and goals.
Brittany King, marketing manager at Dun & Bradstreet, chose to pursue Great Valley's program at Penn State Berks in Reading. Knowing she wanted a face-to-face program from a reputable university, she decided on the Berks campus for its proximity to her home in Upper Macungie.
"The cohort-like experience enabled me to get to know my classmates," said King. "We followed the two-and-a-half-year program together and really became familiar with each other's working styles. This not only helps us to collaborate more closely on group projects and optimize off each other's strengths — but we also became friends."
The MBA program consists of hybrid courses where students attend classes in-person one night per week and complete additional coursework online.
"Faculty set reasonable expectations for classwork," King said. "The program's format helped me meet the demands of my full-time job, so I could leave the evenings and weekends for school work. Additionally, my professors were all very knowledgeable in their space and highly responsive if any questions on assignments did arise."
Faculty rotate between Great Valley and Berks, so class is often held through the Virtual Learning Network (VLN), a state-of-the-art video conferencing tool.
"The VLN was great and innovative," King added. "I could participate fully in class discussions even when my professor was at the Great Valley campus."
After graduating from the program in 2017, King feels even more confident in her career.
"For me, this program helps to take my skills to the next level," she reflected. "It included a well-rounded curriculum that directly related to real-world issues through case studies and projects. I could then incorporate these learnings and concepts into my day-to-day responsibilities which brought value to both my job and the organization. Working in marketing, I can now execute even more strategic campaigns as I have a deeper understanding of the other departments I work with, like finance and accounting — as well as our global and multicultural organization as whole.
This past fall, Great Valley's MBA was extended to the Penn State Navy Yard in Philadelphia. Part-time students are able to earn a graduate degree in under three years. But for those who want to accelerate their studies, they have the option to take classes at other campuses.
Andres Narvaez, a full-time student living in Chester, takes classes at both The Navy Yard and at Great Valley. With undergraduate and graduate degrees in computer science, he enrolled to sharpen his business acumen.
"I want to move into a management role," Narvaez said. "Since my background is in technology, I don't often understand the business side of operations. An MBA from Penn State will cultivate my leadership skills and give me a competitive advantage. I can be a liaison between the business and technology areas of an organization."
Like the Berks campus, The Navy Yard offers hybrid classes and a cohort experience. With free parking and easy access to major highways, the location is ideal for professionals living or working in Philadelphia, South Jersey, or Delaware.
"I was hesitant about a cohort program at first," he admitted. "But the comradery of The Navy Yard changed my mind. Faculty are extremely knowledgeable, and the adjunct faculty bring industry experience. It's a program focused on today's business world. Class time is dedicated to examining case studies and discussing theories."
"I've also enjoyed the wide availability of courses at the Great Valley campus," he added. "Working with my adviser, I've been able to plan out my course load to create something custom to me."
Through elective courses, Narvaez tailored the program to his career goals. He's already received a graduate certificate in new ventures and entrepreneurship and plans to earn another in data analytics this fall.
"Not only have I been provided with a well-rounded understanding of business concepts, but I've also been able to focus on my personal interests in goals," he added. "Technology moves quickly. If I develop a prototype, my entrepreneurship courses taught me how to move forward. I'm prepared for future ideas."
Starting this August, Penn State Great Valley will offer the MBA program at Penn State Abington, providing added convenience to Philadelphia-area professionals. More on Penn State Great Valley's MBA program, including information on the GMAT waiver, can be found online.