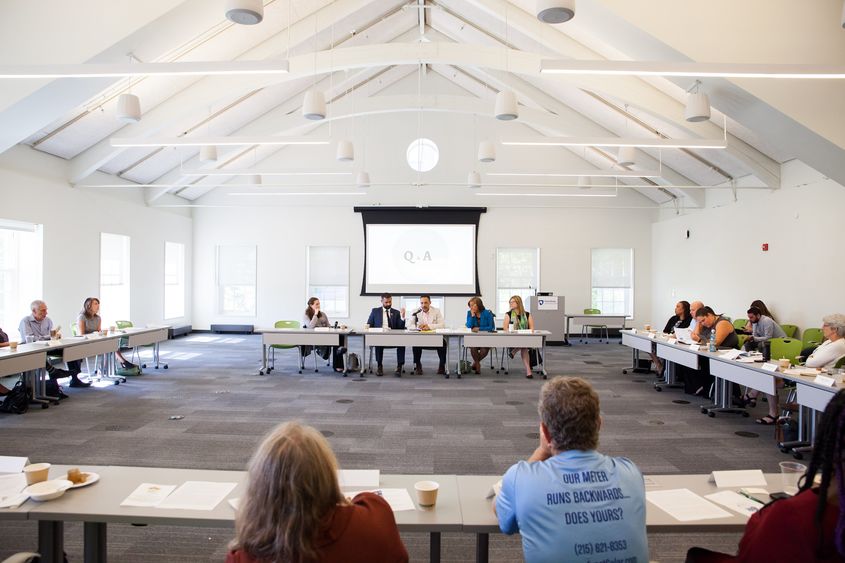 PHILADELPHIA — Conference planners, corporate organizations, and nonprofit groups now have access to premier meeting space in Philadelphia's dynamic Navy Yard business campus.
Penn State at The Navy Yard, a cross-University collaboration of academic, research and outreach-based efforts to engage the Philadelphia area and beyond, announced it will extend its services to provide space for academic and business meetings and special functions. With its proximity to major highways and free parking, the location is ideal for professionals in south Philadelphia, New Jersey and Delaware to host and attend events.
Penn State recently appointed Kristen Footo as the conference services manager for the Navy Yard; she also manages conference services at Penn State Great Valley in Malvern. A native of Huntington, West Virginia, Footo served as the event and building operations manager for Marshall University Foundation Inc. before relocating to Philadelphia. She holds a bachelor's degree in public relations from Marshall University.
"When I first toured Penn State at The Navy Yard, I knew it would be an exciting place to bring in clients," she said. "The history of the Navy Yard — coupled with Penn State's efforts to preserve original architecture in Building 661 and introduce new construction in Building 7R — makes our space an interesting place for events."
Conference clients may choose from a variety of rooms in Penn State's 661 and 7R buildings, with room capacities from 12 to more than 150 people. A large, tiered auditorium with seating for 165 also may be reserved. Wireless internet is free to all clients and audio visual support may be added upon request. Catering options are available.
Along with conference services, Penn State Great Valley provides academic programming at the Navy Yard, including the AACSB-accredited MBA and noncredit project management and leadership development programs. More information can be found at navyyard.psu.edu.