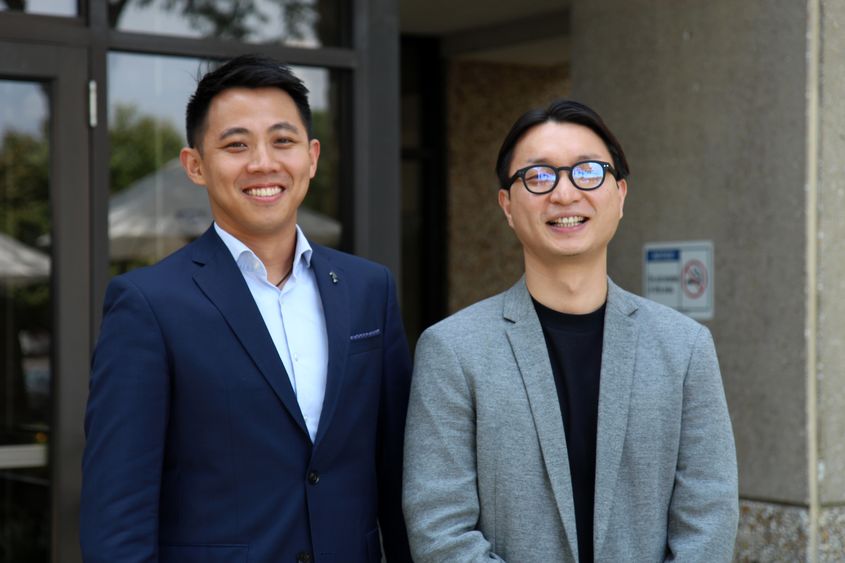 MALVERN, Pa. — Assistant professors of management and organization Min Cheong and Joey Tsai joined Penn State Great Valley's faculty this year. Like faculty member John J. Sosik, they attended the State University of New York, Binghamton for their doctoral programs — and even shared the same office. Cheong and Tsai will teach leadership courses as part of the campus' MBA and Master of Leadership Development programs.
Cheong and Tsai were drawn to Binghamton's prestigious Center for Leadership Studies, which takes a scholarly approach to examining leadership that emphasizes academic research based on various sets of leadership theory and rigorous methodology.
Originally from South Korea, Cheong received his bachelor's degree in business administration from Kyung Hee University. During his junior year, Cheong worked as a research assistant to a professor who opened his eyes to academia and recommended that he attend graduate school. He earned his master of science in business administration with a concentration in organizational behavior from Seoul National University. While working toward his doctorate in management with a concentration from organizational behavior and leadership at Binghamton, Cheong received the Graduate Student Award for Excellence in Research.
Cheong's research focuses on empowering leadership, and the concept of paradox and balance of leadership across different levels-of-analysis. He has published his works in management and psychology journals such as The Leadership Quarterly and Group & Organization Management, and also presented at national and international academic conferences, including the Academy of Management, Society for Industrial & Organizational Psychology, and Southern Management Association.
"I'm eager to work with professionals of varying levels and experience," said Cheong. "I hope to learn not only from my fellow faculty members, but also from my students. I aim to make my classes exciting and more than just a lecture, so I look forward to hearing their perspectives."
Tsai has a bachelor's degree and a master's degree in psychology from National Taiwan University. Before starting at Binghamton, he worked for a consulting firm in Asia for three years. Fascinated by how a leader can contribute to an organization's overall success or failure, he decided to return to the classroom to pursue a doctorate with a concentration in organizational behavior and leadership. Prior to coming to Great Valley, Tsai was an assistant professor at California State University, Los Angeles.
Tsai is passionate about behavior patterns and how leaders evolve over time. One of his recent publications examines how athletes view their coaches as they change throughout the sport's season. Tsai's work has been published by The Leadership Quarterly, Journal of Cross-Cultural Psychology, and Management and Organizational Review.
Like Cheong, Tsai is enthusiastic about working with students and collaborating with colleagues.
"Great Valley has a unique culture that caters to professionals," said Tsai. "I am excited to join this friendly community. I hope to draw inspiration from my students as I learn about their motivations and goals."
This fall Tsai will teach Leadership Across the Life Span, while Cheong will instruct Full-Range Leadership Development in-person at Great Valley and online for the Master of Professional Studies in the Psychology of Leadership program offered through World Campus.