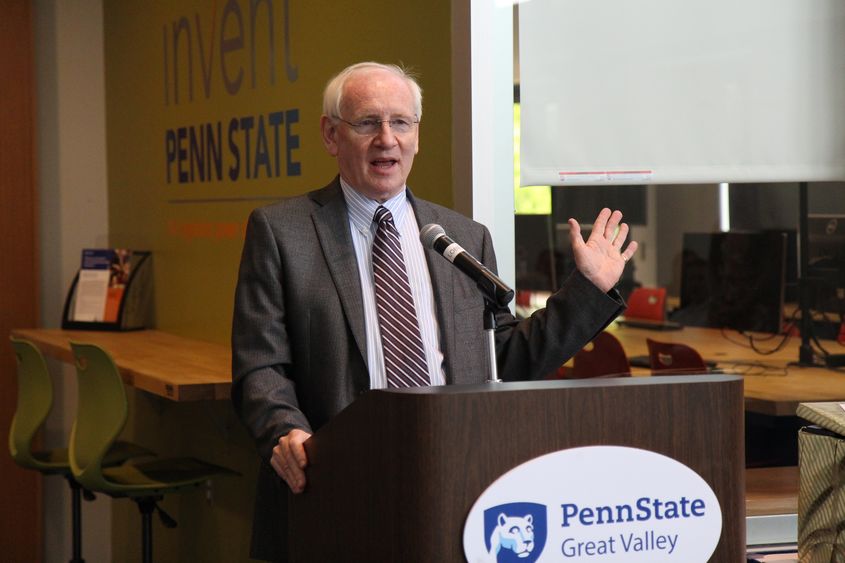 MALVERN, Pa. — After teaching 101 sections of 22 different classes, authoring 130 technical articles, and visiting 30 different countries, David Russell, professor of electrical engineering at Penn State Great Valley for almost 32 years, will retire at the end of June.
Born in England, Russell holds a bachelor's degree in electrical engineering from the University of Liverpool and was awarded a doctorate from the Council for National Academic Awards in London. After writing computer programs — some that included thousands of lines of code — at the United Kingdom Atomic Energy Authority, he became a professor at age 22.
Before responding to a newspaper advertisement for a position at Penn State Great Valley in 1985, Russell alternated teaching and working in the private sector. He taught at universities including Villanova, Howard, and John Moores in the UK, and has held several computing, automation, and technology roles in Pennsylvania, New Jersey, and Connecticut.
An observant person, Russell brought strategic changes to both Great Valley and University Park during his tenure. Likening Great Valley to a business, Russell devised the idea of divisions in the engineering, management, and education academic units.
When he witnessed a decline in traditional electrical and mechanical engineering programs, he saw an opportunity for information technology-focused programs. Believing in its potential appeal to both women and men, Russell launched the Master of Science in Information Science and Master of Software Engineering programs and a Master of Systems Engineering for the more traditional engineering student — and the campus saw an increase in female enrollment. The systems engineering course is his favorite to teach, and it's still part of the program's core curriculum. Russell also played a critical role in developing the College of Information Sciences and Technology at University Park.
"David led the Engineering Division during the glory years of IT when every organization clamored for technical staff to ensure Y2K issues never arose and paper processes made way to electronic data systems," said Colin Neill, associate professor of software and systems engineering and current director of engineering programs at Penn State Great Valley.
"He recognized the opportunity and jumped on it with zeal with the information science program and then software engineering. He sought to push our programs out wherever he could, both locally (we were the first university to deliver programming at The Navy Yard) and as far afield as San Diego and even Kuala Lumpur."
But perhaps Russell's biggest contribution — and the one of which he's the most proud — is his leadership among faculty members. Similar to his observations in the classroom, Russell noticed a gender imbalance among the faculty. As division head he made a conscious effort to hire female engineering professors — including Nil Ergin, Kathryn Jablokow, and Sally Sue Richmond who still teach at Great Valley today.
A great mentor, he guides and supports new faculty on campus. Nearly all of his hires have been awarded tenure — an achievement Russell uses to evaluate his own success.
"David has taught for Penn State Great Valley going back to the days when we were in King of Prussia and his overall teaching experience goes back even further," said James Nemes, chancellor and engineering faculty member at Penn State Great Valley. "He also served as Senior Engineering Division Head for 14 years and helped shape many of the programs we offer today. I was fortunate to come to the Engineering Division after David's excellent stewardship."
Russell is also an avid traveler; and he calls himself "British by Birth" and "American by choice". His research, societal fellowships, and consulting assignments have provided him with many opportunities to explore foreign countries, including Singapore, India, Malaysia, and Morocco. For each country he's visited, Russell returned with a souvenir that he displays in a case in his office. His travels have shown him the breadth of the University's network; he's encountered many Penn Staters along the way, including a person in Kuala Lumpur who immediately recognized the Nittany Lion in Russell's presentation.
While Russell retires on June 30, he will not go far. He will keep his office on the second floor of the campus' Main Building for a while. His shelves, a testament to his work over three decades, are filled to the top, but neatly organized. The books he authored are sorted by subject matter and course material from each and every class are stored in binders carefully labeled by year.
As he steps away from teaching, Russell's office will become home to his research. He's spent the past 50 years studying artificial intelligence, information systems in factories, and more recently cloud computing — and his retirement will afford him the time to focus on his academic pursuits and driving his beloved Mercedes.
"I'm grateful to my loyal colleagues and the support of the Penn State community," he said. "This has been a wonderful place to work and would attest that Penn State is a great employer and I would encourage faculty and staff to appreciate being part of a great heritage."