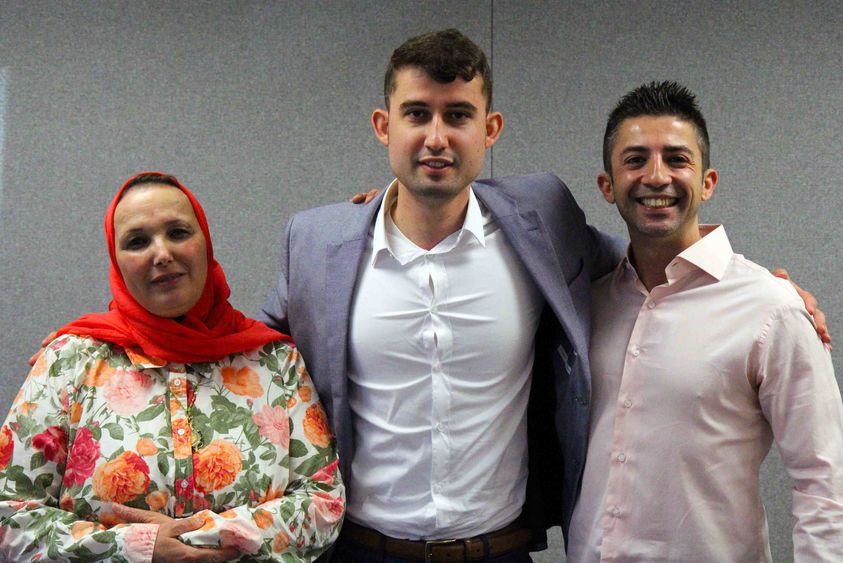 MALVERN, Pa. — In a celebration of Penn State Great Valley's diverse community, graduate students with international backgrounds recently shared their experiences with faculty and staff at a luncheon sponsored by the campus' Diversity Action Council.
Created to strengthen the campus' understanding of the socially and culturally varied student body, "Students' Journeys to Great Valley" featured three students from different programs.
The panelists included:
Amal Eldharrat, an information science student and systems tester at Vanguard from Libya who has lived in the United States with her husband for more than 37 years.
Grigor Lakuriqi, an MBA student and a funding analyst who moved from Albania to Philadelphia with his family when he was 4 years old.
Ahmed Mohammed, a full-time international student from Iraq and student in the Master of Leadership Development program.
Mohammed shared some of Iraq's earliest contributions to modern society, including the "Baghdad Battery," a 2,000-year-old artifact believed to work as a battery and produce an electric current. Eldharrat communicated her story through three lenses: as a professional, as a student, and as a mother and wife. Lakuriqi explored his family's journey from Albania to Philadelphia — and back again — through times of war and communism.
Despite their geographic and cultural differences, the group's reflections shared values like the importance of education and hard work.
"What I took away from the other panelists' words and stories is that while we all come from different cultures and different walks of life, we all generally want the same things," said Lakuriqi. "It was nice to celebrate the similar aspirations we have; it helped me to realize that the pursuit of happiness is a universal want for everyone."
Attendees had the opportunity to ask questions, which led to lighthearted commentary on American culture, climate and cuisine — and deeper reflections on global leadership and corruption.
"Sharing my experience was humbling and pleasurable," said Mohammed. "It was a great opportunity to integrate what I've learned in the Master of Leadership Development program into real-life scenarios."
For both presenters and attendees, the event was a memorable learning experience and served as a reminder of the commonalities the campus shares.
"It is important to learn about other people and cultures," said Eldharrat. "The more we learn, the more we grow, and the more we can live in peace."