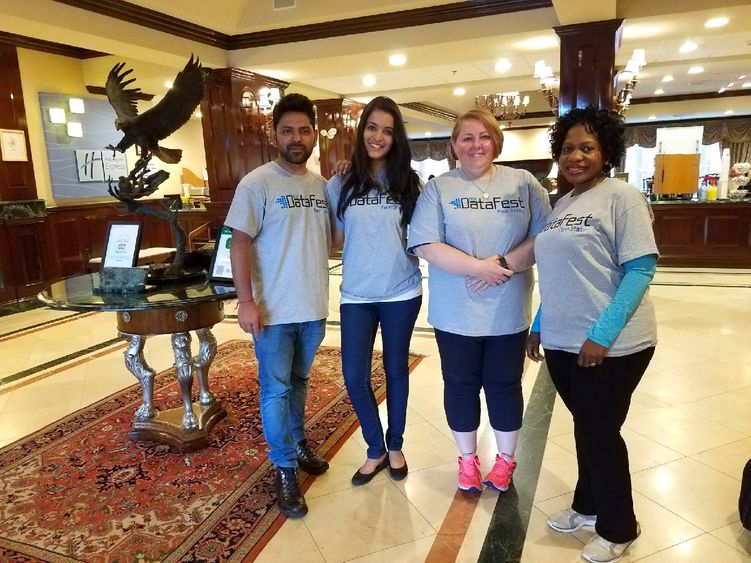 MALVERN, Pa. — For the first time, engineering graduate students from Penn State Great Valley traveled to University Park to compete in the annual American Statistical Association's (ASA) DataFest event.
Founded in 2011, the ASA DataFest is a 48-hour event held at a college or university where teams of 2-5 graduate or undergraduate students analyze a complex dataset around the clock. This is Penn State's third year participating in the nationwide event; other DataFest participants include institutions like UCLA, Emory, and Princeton.
Four students made up Great Valley's GV Data Warrior team:
Ruth Kalule, data analytics
Jackie Markle, data analytics
Malavika Mathur, information science
Samarth Patel, engineering management
After receiving an email announcing DataFest, Ashkan Negahban, assistant professor of engineering management, wrote to Patel, his research assistant, to suggest he should participate in the event. After conversing with faculty members involved in the campus' Big Data lab, the group asked Patel to talk to his classmates and form a team.
"I wanted to select a diverse team," said Patel. "Malavika and I both work in the Big Data lab and I know she is very proficient in data analytics. I've taken courses with Jackie and Ruth, so I asked them to participate because of their professional backgrounds and experiences with data mining and predictive analytics."
Negahban also attended the event as one of three Penn State faculty judges. They joined two industry judges to evaluate the teams based on insight, creativity and visualization.
On Friday, March 31, the group of five left from Malvern to University Park. Later that evening, the GV Data Warriors received the dataset from a large company that would test their statistical, mathematical, and analytical skills. While the company cannot be named until all Datafest events have concluded, previous datasets came from businesses like Ticketmaster, eHarmony and Edmunds.com.
After two days of strenuous mental work, the GV Data Warrior team summarized their findings in a three minute presentation to the judges. While the team did not win a prize, they placed in the top five for the overall award and gained valuable experience working with a real, complex dataset.
"It was an awesome experience to attend DataFest with such a great team," said Kalule. "I had the opportunity to work on a huge dataset. Regardless of a few obstacles we encountered, we made it work, and I am so proud of my team. It was a learning experience for me, and I'm thankful to Penn State for giving us the opportunity to participate."