Creative writing entries and voting open Oct. 4-29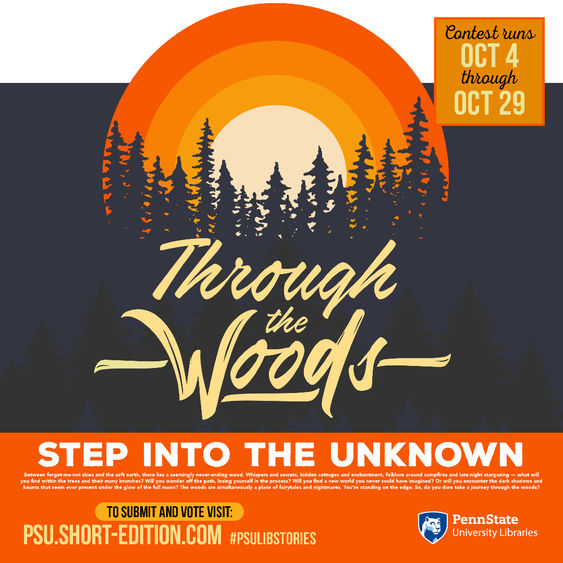 UNIVERSITY PARK, Pa. — Penn State University Libraries invites Penn State students, faculty and staff to submit their best "Through the Woods"-themed original creative writing to the fall Short Stories writing contest. Short stories or poems to share around the campfire, whether spooky, mysterious or straight out of a fairytale, are all encouraged.
For this contest, step into the unknown: Between forget-me-not skies and the soft earth, there lies a seemingly never-ending woods. Whispers and secrets, hidden cottages and enchantment, folklore around campfires and late-night stargazing — what will you find within the trees and their many branches?
For this contest, the editorial board wants to know: Will you wander off the path, losing yourself in the process? Will you find a new world you never could have imagined? Or will you encounter the dark shadows and haunts that seem ever present under the glow of the full moon? The woods are simultaneously a place of fairytales and nightmares. You're standing on the edge — do you dare take a journey through the woods?
The "Through the Woods" contest is open for submissions Monday, Oct. 4, through Friday, Oct. 29. Qualifying lengths are as follows: Short-story submissions should not exceed 8,000 characters, including spaces; and poetry submissions should not exceed 6,000 characters.
Submissions must be received before Oct. 29 to be considered. Stories and poems accepted by the editorial board will be published on the Short Edition website, during which time the public is encouraged to vote for their favorites. From across the commonwealth, five winners will be chosen: four selected by the editorial board and one "voter favorite" winner, chosen by the public on the website. Each of the five winning student authors will receive $100 and have their story or poem published on the Libraries' 10 Penn State Short Edition short-story dispensers. Several honorable mentions, chosen by the editorial board and community voters, also will be published on the dispensers. Any applicants from the Penn State community are eligible to win honorable mention.
During the open submission period, the public is encouraged to visit the Short Stories website to read and vote for their favorite submissions. Although only Penn State students are eligible to win prizes, all qualifying submissions will be posted for voting and comments and will be considered for use in the dispensers.
Penn State Libraries short-story dispensers at the University Park campus can be found at:
Paterno Library entrance.
Pattee Library mall entrance.
Grange Building entrance at Pollock Road.
In addition, Penn State Libraries short-story dispensers also are at, or near:
Due to COVID-19 restrictions, some short story campus dispensers may be inoperable. For up-to-date information about dispenser access, for voting or for more information about "Through the Woods" writing contest, visit psu.short-edition.com.
Questions about the Libraries Short Stories writing contests, the Libraries Short Stories online platform, or short-story dispensers' curricular or co-curricular use can be directed to Melissa Millar, public services coordinator for Berks Thun Library, at [email protected].