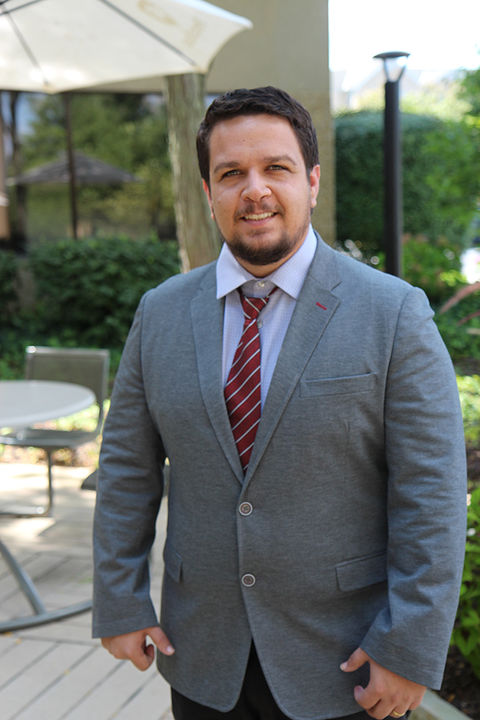 Biography

Everton Guimaraes, assistant professor of software engineering, holds a B.S. in information technology from the Federal Institute of Technology, Science and Education (IFRN), an M.S. in computing and systems from the Federal University of Rio Grande do Norte, and a Ph.D. in sciences and informatics from the Pontifical Catholic University of Rio de Janeiro. Before joining Penn State Great Valley, Dr. Guimaraes worked as Assistant Professor at the University of Fortaleza, where he also joined the Software Engineering Research Group. He was also a Postdoctoral Fellow at Drexel University.

Dr. Guimaraes' teaching involves algorithms and computer programming, software development and analysis, software architecture, software engineering, and mobile computing. He has collaborated with many partners in industry and academia, both in Brazil and abroad, over the past 9 years. His main research interests are in software engineering and mobile computing. His most recent research investigates of problems related to software architecture and source code, and their impact on the overall software quality attributes (i.e. maintenance, evolution, comprehension). Moreover, he is also interested in research topics related to technical debt, architecture recovery techniques, model composition, software product lines, multi-agent systems and IoT.

Awards

2016–2017 Young Researcher Award (Grant), University of Fortaleza. Edson Queiroz Foundation.

2016 Best paper award for the work presented and published at the Brazilian Symposium on Software Components, Architecture and Reuse. Vidal, S.; Guimaraes, E. T.; Oizumi, W.; Garcia, A. Pace, A. D.; Marcos. Identifying Architectural Problems through Prioritization of Code Smells. In Proc. of SBCARS, Maringa, Brazil, 2016.
Publications

Selected Publications

Everton Guimaraes, Santiago Vidal, Alessandro Garcia, Andrez Pace, Claudia Marcos. "Explore Blueprints for Prioritizing Critical Code Anomalies: Experiences and Tool Support". Journal of Software: Practice and Experience, 2017

Santiago Vidal, Everton Guimaraes, Willian Oizumi, Alessandro Garcia, Andrez Pace, Claudia Marcos. "On the Criteria for Prioritizing Code Anomalies to Identify Architectural Problems". In Proc. of 31st Symposium on Applied Computing (SAC'16), Pisa, 2016

Santiago Vidal, Everton Guimaraes, Willian Oizumi, Alessandro Garcia, Andrez Pace, Claudia Marcos. "Identifying Architectural Problems through Prioritization of Code Smells". In Proc. of X Brazilian Symposium on Software Components, Architecture and Reuse, Maringa, Brazil, 2016

Marx Viana, Everton Guimaraes, Paulo Alencar, Francisco Cunha, David Cowan, Carlos Lucena C. "JSAN – A Framework to Implement Normative Agents". In Proc. of Software Engineering and Knowledge Engineering (SEKE'15), Pittsburg, 2015.

Marx Viana, Paulo Alencar, David Cowan, Everton Guimaraes, Francisco Cunha, Carlos Lucena. "The Development of Normative Autonomous Agents: An Approach". In Proc. of Intelligent Agent Technology Conference (IAT'15), Singapore, 2015

Everton Guimaraes, Alessandro Garcia, Yuanfang Cai. "Architecture Sensitive Heuristics for Prioritizing Critical Code Anomalies". In Proc. of the 14th International Conference on Modularity, Fort Collins, Colorado, USA 2015.

Everton Guimaraes, Alessandro Garcia, Yuanfang Cai, Y. "Exploring Blueprints on the Prioritization of Architecturally Relevant Code Anomalies: A Controlled Experiment". In Proc. of the 38th Annual International Computers, Software Applications Conference, Västerås, Sweden, 2014

Everton Guimaraes, Alessandro; Garcia, Kleinner Farias. "On the Impact of Obliviousness and Quantification on Model Composition Effort". In Proc. of 29th Symposium on Applied Computing, Track on Software Architecture: Theory, Technology, and Applications (SATTA), South Korea, 2014.

Roberta Arcoverde, Everton Guimaraes, Isela Macia, Alessandro Garcia, Yuanfang Cai. "Prioritization of Code Anomalies Based on Architecture Sensitiveness". In Proc. of XXVII Brazilian Symposium in Software Engineering, Brasília, Brazil 2013

Bruno Cafeo, Francisco Dantas, Alessandro Gurgel, Everton Guimaraes, Elder Cirilo, Alessandro Garcia, Carlos Lucena. "Analyzing the Impact of Feature Dependency Implementation on Product Line Stability: An Exploratory Study". In Proc. of the XXVI Brazilian Symposium on Software Engineering, Natal, Brazil, 2012
Education

B.S., Information Technology, Federal Institute of Technology, Science and Education (IFRN)
M.S., Computing and Systems, Federal University of Rio Grande do Norte
Ph.D., Sciences and Informatics, Pontifical Catholic University of Rio de Janeiro